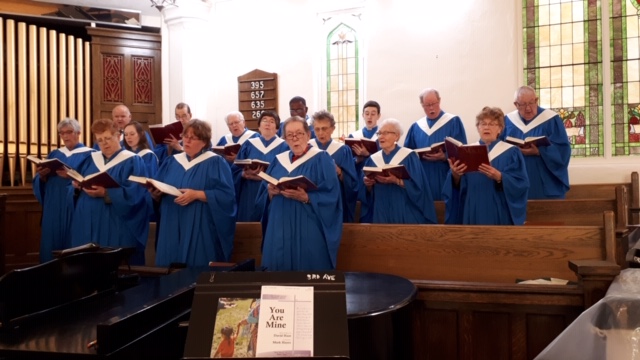 SUNDAY WORSHIP:
Rev. Dexter van Dyke

Service 10:30 AM
Sunday School
During Church Service


1301 - 102nd Street
North Battleford, SK.
S9A 1G4
Phone: 306-445-8171




Email
W E L C O M E

If you are a visitor or newcomer to Third Avenue United Church, our first hope is that you will experience God's love and care. Our second hope is that you will also experience our love and care. Some of us are shy and quiet, while others are bold and outgoing. Yet, in all our ways we want to say:

"YOU ARE WELCOME!"
---
WELCOME!

Third Avenue United Church conducts
regular Sunday Face-To-Face worship services.

Sunday School will resume once Covid-19 numbers start improving

The church Re-Opening Committee met on August 23rd to reassess Third Avenue's health protocols around Covid-19. With the Covid numbers in Saskatchewan deteriorating since late July, it was unanimously felt that Third Avenue should maintain it's health protocols until further notice. These protocols will be reassessed once the Covid numbers start improving.
Thank you for your cooperation and your patience.
if possible, please pre-register with the church office at
(306 445-8171) to attend (space is limited to 50);
hand sanitize upon entering and leaving the church (provided);
wear a face mask;
physical distance.
If you are unable to attend our Sunday services,
Click on the "SUNDAY SERMONS" tab to listen to regular Sunday messages from Rev. Dexter van Dyke.
The "LINKS" tab will also connect you to many other on-line resources.
From the Desk of Dexter van Dyke
THIS IS WHO WE ARE.
We are a church in the center of North Battleford that welcomes people of all ages and different racial and ethnic backgrounds.
We are a friendly community of ordinary people following Christ on a never ending spiritual journey.
We enjoy friendly and relaxed religious services; our music is a mixture of old and new in a setting where both choir and congregation enjoy singing.
We provide a wonderful Christian Education program for all children; baby sitting services are available to parents.
THIS IS WHAT WE ARE ABOUT.
We are passionate about preaching and sharing the word of God.
We share God's word by providing regular religious worship as well as support for weddings and funerals.
We, as a Christian community of faith, have adopted and prayerfully put into words and deeds what we believe to be our mission in our community and the world.
HOW DO WE LIVE OUT OUR MISSION?
We live out our mission by seeking to love and care for God's creation through worship and work in community by:

Generously sharing our facilities with the community at large.
Offering a dynamic Christian Education program through our Sunday School and Bible Study.
Offering an excellent music ministry which includes both Choir and Handbell Choirs .
Serving the local community through participation in many organizations and groups; many of our church members have been recognized as North Battleford's Citizens of the Year.
On regular Sundays, you are invited to join us at "Avenue Cafe@Logie" in Logie Hall before church from 9:30 - 10:15 AM and after church 11:45 - 12:30 PM. However, at the present time, we are restricted from serving refreshments and snacks due to regulations around Coronovirus-19.


| | | |
| --- | --- | --- |
| ALL AREAS HAVE | | ACCESSABILITY |